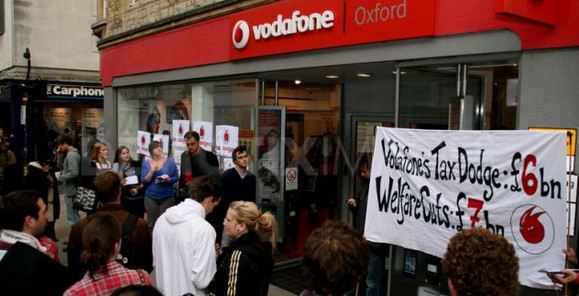 In the UK, things have been hotting up with students taking to the streets to demonstrate about the swingeing cuts hitting the education sector, introduced by an evil Tory government stuffed full of millionaires.
Tax dodgers
What's made protesters even more angry is the fact that Vodafone have apparently been let off £6bn in tax payments –  a sum large enough to ensure affordable education for millions.
Other big companies employing tax dodging wheezes have been uncovered, including the Arcadia Group, the shares of which are owned by the wife of stinking rich owner Sir Philip Green.
It is alleged that Sir Philip deliberately tried to avoid paying vast pots of UK tax by channelling £1.2 billion worth of funds from his retail empire into a handy offshore number registered to his wife in Monaco.
This little manoeuvre added up to a huge £285m tax dodge – enough to pay the £9,000 fees for almost 32,000 students or the salaries of 20,000 NHS nurses.
UK wide protests
A wave of protests has sprung up in the UK, with occupations of Vodafone, TopShop and other related tax-shirking businesses, and with more on the way, a new mobile website called UK uncut has emerged.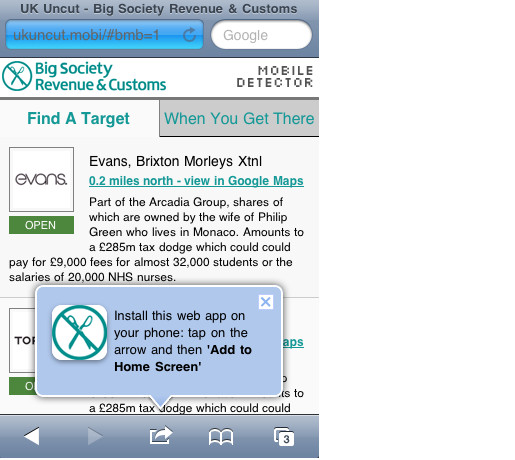 The site employs HTML5's geolocation capabilities to quickly locate nearby targets for protesters, serving up a list of accused tax dodgers, along with a short summary of their dubious activities.
A slightly more controversial 'When you get there' tab offers suggestions as to what kind of peaceful action individuals and groups may take, although disappointingly there's no diary function showing the times and dates of any forthcoming planned actions.
The site can also be saved as a web app on an iPhone, and it worked fine on our Android device.
Point your mobile browser here http://ukuncut.mobi/ and find the nearest tax dodger to you – and if you're in Brixton, see you on Saturday outside TopShop at 11am!
[UK uncut]
(This article originally appeared on wirefresh.com)
Related links:
http://www.taxjustice.net/
http://www.taxresearch.org.uk/Blog/
(Photo credit: demotix.com)