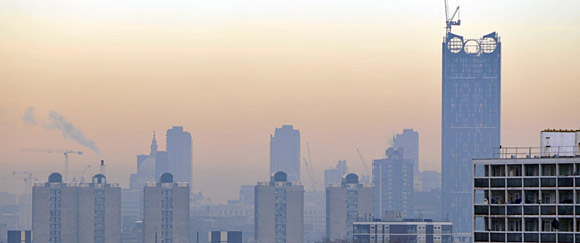 Looking like it's sprouted from the set of Bladerunner is London's newest high-rise apartment block, the 'Razor.'
The 148 metre-tall high-tech tower will feature built-in wind turbines – a world first – and they're expected to generate 50MWh annually, adding up to 8% of the building's electricity needs.
Standing next to the grim Elephant and Castle roundabout and the decidedly dodgy Heygate estate in sarf Landahn, it's an unlikely location for such an innovative building, which is officially called the Strata tower.
The three 9m-diameter, five bladed turbines will be installed 43 storeys up at the top of the tower next month, and are capable of 35mph gusts, courtesy of what's known as the 'Venturi effect.' This (apparently) sucks in air in from many angles and accelerates it through the tubes.
The design has been described as 'Marmite architecture' by Justin Black, director for the developers, Brookfield:
"The brief we gave to Hamilton's Architects was we wanted a statement, we wanted to create benchmarks for sustainability and urban living. We wanted something bold, we wanted remarkable. It's what I term Marmite architecture – you either love it or you hate it, there's no in between."
Costing a cool £113m and targeted at the well-heeled (the 408 apartments start at £230,000 and soar upwards to a gor-blimey £2.5m each), the tower is part of a £1.5bn project to regenerate the Elephant and Castle area.
We've been watching the tower's construction from our office and rather like the look of the thing – at least it's got a touch of pizazz about it.
London major "Bumbling" Boris Johnson is expected to open the building on 1 July, if all goes to plan.
Update:  The Strata tower has been awarded the 'Carbuncle Cup' as Britain's ugliest new building, with the 42-storey building in Elephant & Castle being  nominated for its 'plain visual grotesqueness' and 'Philishave stylings.'
The Guardian reported on the prize:
"Decked out with Philishave stylings, this is a building that appears to be auditioning for a supporting role in a James Bond title sequence," said Ellis Woodman of Building Design, the trade newspaper which organised the prize.

The building was nominated by The Georgian Group for its "plain visual grotesqueness". Adam Jones, another nominator, said: "I used to live in south London and moved partly because — and I'm not joking — the Strata tower made me feel ill and I had to see it every day."
[Article originally appeared on our sister site, wirefresh.com]