What's being billed as 'the largest internet protest in history' is underway today, with websites showing their opposition against the proposed Stop Online Piracy Act (SOPA) and its sibling the Protect IP Act (PIPA) in the US.
In support and solidarity with this important protest, I've changed the headers across all the urban75 homepages for the day (see above).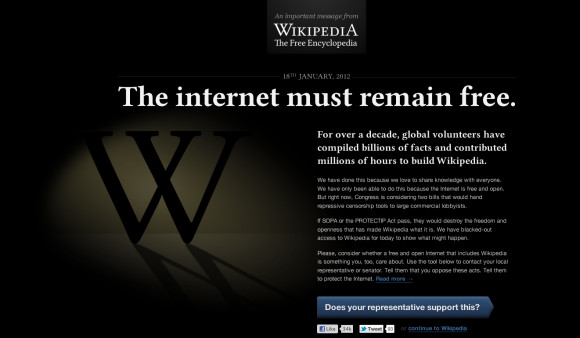 Reddit and Wikipedia are among some of the big sites who have 'gone dark' today (i.e shut down for the day) to illustrate what might happen if SOPA became law.
Here's what I wrote about the proposed legislation on my sister site, Wirefresh.com
The two bills – the Stop Online Piracy Act and the PROTECT IP Act – are intended to blacklist 'renegade' sites like Pirate Bay that share copyrighted films and music, and make the uploading clips of movies or TV shows to Facebook or YouTube a criminal act.

Users streaming copyrighted content could face a five-year jail term, with sites offering pirated content being punished by being delisted on search engines – and potentially have their IP address blacklisted.

It won't just be US users affected either: Stop Online Piracy Act (Sopa): how it could affect UK-based websites like Urban 75.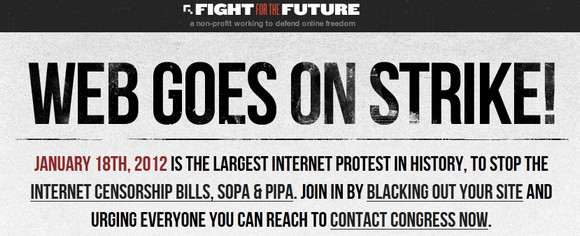 Here's the inevitable Hitler 'Downfall' video:
 More info: 
SopaStrike.com offers advice how websites and users can get involved:
Websites: How to Strike
Black out your website for 12 hours with this page's HTML, or by putting this Javascriptinto your site's theme. Tucows is doing this and so is BoingBoing.
Other people have made tools to strike. Some other ways to strike:
Don't be silent that day. Tweet all day from your official company account (#SOPASTRIKE) and share news on sites like reddit. You will get much love in return from your users, and the bigger the action you do, the more love you will be feeling  – You can follow us on twitter for news as the strike gets closer. If you are really feeling shy, you can blackout your site logo / add STOP SOPA messages wherever you can.
Everyone: Prepare to Strike
If you have a Twitter account, tweet about the #SOPASTRIKE and ask your followers to get ready. You can follow us on twitter for news as the strike gets closer. Go to Blackout SOPA to add 'STOP SOPA' to your Twitter image.
Post this SOPA Strike page to your Facebook account by clicking here.
Get ready for January 18th! Email and tweet at your friends, tell them to tell everyone about the strike. When the day comes, call Congress, tweet like crazy (#SOPASTRIKE), and help the strike appear everywhere!
More links:
How does SOPA work? Infographic explains how websites will be blocked
The largest internet protest in history sees sites go dark in protest at SOPA laws
[Stop American Censorship ]